Simon Draper is Professor of Vaccinology and Translational Medicine at the University of Oxford. He was based at the Jenner Institute, Nuffield Department of Medicine from 2005 until Feb 2021 when he moved his laboratory to the Department of Biochemistry. The group's clinical team are based at the University's Centre for Clinical Vaccinology and Tropical Medicine (CCVTM) on the Churchill Hospital site.
More information about the Draper Group can be found here.
CLINICAL TRIALS
Alongside basic research, there is a strong translational emphasis in the Draper Group, with the most promising new approaches and/or candidate vaccines feeding into the Blood-Stage Malaria Clinical Trials Programme. Candidate vaccines are manufactured to current Good Manufacturing Practice (cGMP) and then progressed to clinical trials led by Dr Angela Minassian's team based at the Centre for Clinical Vaccinology and Tropical Medicine. These include Phase Ia/b trials to assess vaccine safety and immunogenicity, as well as Phase IIa controlled human malaria infection (CHMI) trials to assess efficacy.
Plasmodium falciparum - UK
The current leading candidate for P. falciparum blood-stage malaria is the antigen PfRH5. In 2014-2015 the Draper group conducted a first-in-human Phase Ia PfRH5 trial in malaria-naïve healthy adult volunteers in Oxford using a heterologous viral vector platform, ChAd63-MVA (NCT02181088). The results demonstrated that vaccination against PfRH5 could induce strain transcending neutralising antibodies capable of inhibiting blood-stage parasite invasion of red blood cells. However, based on projections from preclinical studies, the magnitude of the antibody response was likely below the level required for protection and therefore a vaccine platform capable of inducing higher concentrations of antibody would be required to be effective. The next PfRH5 UK clinical trial, in 2016-2019, was therefore with a full-length protein (RH5.1) candidate, co-administered with the adjuvant AS01B provided by GSK (NCT02927145). This RH5.1/AS01B trial included a CHMI readout and was the first demonstration that a blood-stage malaria vaccine candidate could significantly reduce P. falciparum parasite growth in the blood of adult volunteers.
For more information: 
Payne, Ruth O., et al. "Demonstration of the blood-stage Plasmodium falciparum controlled human malaria infection model to assess efficacy of the P. falciparum apical membrane antigen 1 vaccine, FMP2. 1/AS01." The Journal of infectious diseases 213.11 (2016): 1743-1751.
Payne, Ruth O., et al. "Human vaccination against RH5 induces neutralizing antimalarial antibodies that inhibit RH5 invasion complex interactions." JCI insight 2.21 (2017).
Douglas, Alexander D., et al. "A defined mechanistic correlate of protection against Plasmodium falciparum malaria in non-human primates." Nature communications 10.1 (2019): 1-8.
Nielsen, Carolyn M., et al. "Protein/AS01B vaccination elicits stronger, more Th2-skewed antigen-specific human T follicular helper cell responses than heterologous viral vectors." Cell Reports Medicine 2.3 (2021): 100207.
Minassian, Angela M., et al. "Reduced blood-stage malaria growth and immune correlates in humans following RH5 vaccination." Med (2021).
Plasmodium falciparum - Tanzania
Alongside the UK clinical trials in malaria-naïve healthy adults, the Draper group collaborates closely with Dr Ally Olotu (Ifakara Health Institute in Bagamoyo, Tanzania) to evaluate the PfRH5 vaccine candidates in malaria-exposed populations. In 2018-2019, a Phase Ib age de-escalation trial was run with the ChAd63-MVA RH5 vaccine in healthy adults, children and infants (NCT03435874). A second age de-escalation trial is currently underway testing the RH5.1 protein formulated in the Matrix-M adjuvant provided by Novavax (NCT04318002). We are also working with Dr Olotu to establish the blood-stage CHMI model in Tanzania for the first time, to enable future early-phase vaccine efficacy assessment in African adults. The Draper group is also part of two EDCTP-funded consortia: the Multi-Stage Malaria Vaccine (MMV) Consortium and the MIMVaC Africa Consortium – in the coming years these consortia will test PfRH5-based vaccines for efficacy against clinical malaria in Phase IIb field trials and also test a multi-stage combination vaccine approach.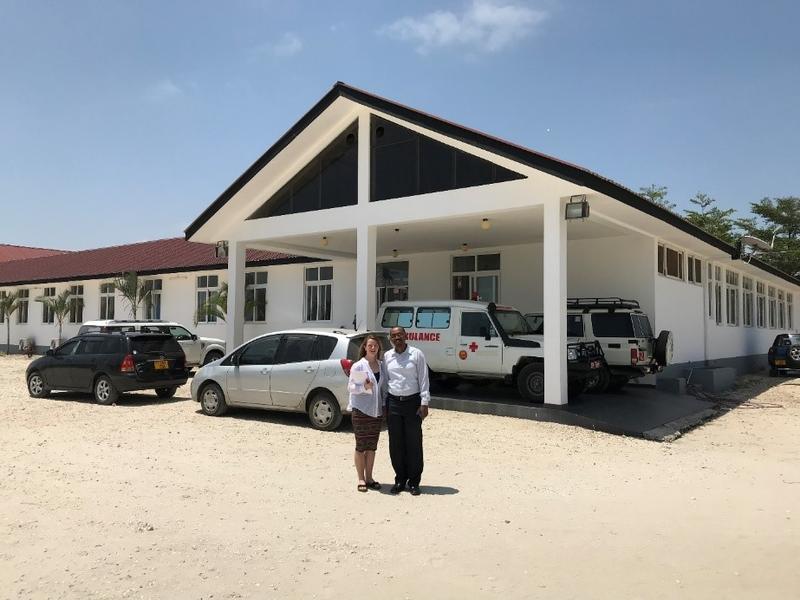 Ifakara Health Institute clinical trial site - Ms Sarah Silk with collaborator Dr Ally Olotu
Plasmodium vivax - UK
The P. vivax blood-stage vaccine development programme focuses on region II of the Duffy-binding protein (PvDBP). In 2013-2014 a Phase Ia trial was conducted in healthy UK adults with PvDBP expressed by the ChAd63-MVA heterologous viral vector platform which induced strain-transcendent antibodies (NCT01816113). At present, the Draper group has ongoing UK Phase I/IIa clinical trials with both the ChAd63-MVA viral vector platform (NCT04009096) and PvDBPII protein formulated in Matrix-M adjuvant (NCT04201431), which include CHMI arms to test vaccine efficacy. The PvDBPII protein has been provided by our collaborator Dr Chetan Chitnis (Pasteur Institute) and Matrix-M by Novavax. The efficacy testing by CHMI has been enabled by our recent work as part of the European Commission-funded MultiViVax Consortium. Here we have produced the new PvW1 clonal isolate of P. vivax from Thailand (working in partnership with our collaborators at Mahidol University and demonstrated it is safe and suitable for use in the human challenge model. Our genomic analysis of this parasite, working in collaboration with Prof Julian Rayner (University of Cambridge) and Dr Philip Spence (University of Edinburgh), will guide future assessment of candidate vaccines and drugs, as well as experimental medicine studies. We hope that the PvW1 parasite should prove to be an invaluable resource for the wider malaria community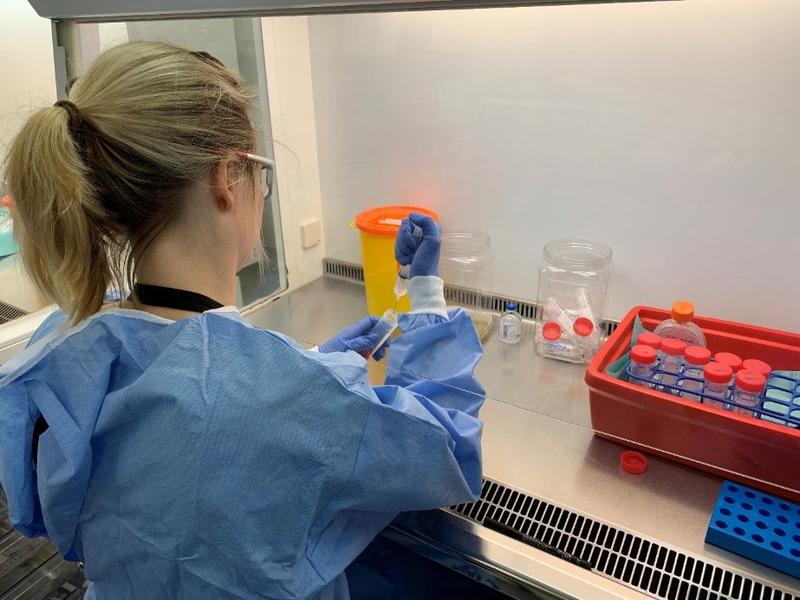 Dr Carolyn Nielsen during P. vivax inoculum preparation training
For more information: 
Payne, Ruth O., et al. "Human vaccination against Plasmodium vivax Duffy-binding protein induces strain-transcending antibodies." JCI insight 2.12 (2017).